Technical Support
Our CST scientists work at the bench daily to produce and validate your antibodies. They have hands-on knowledge of each antibody's performance. These same scientists provide technical support and assistance.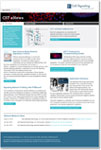 News from the Bench
Discover what's going on at CST, receive our latest application notes, science features, and more.
Cell Signaling Technology and LabRoots Webinar: Don't Let Antibodies be a Variable in Your Experiment
Danvers, MA — October 13, 2016
What:
Webinar: "Achieving Reproducibility: Don't Let Antibodies be a Variable in Your Experiment"
When:
October 27, 2016 at 12:00 p.m. EST (9:00 a.m. PST)
Webinar:
Featured speaker Anthony Couvillon, Ph.D., scientific marketing project manager at Cell Signaling Technology, will discuss the role vendors, researchers, and journals should play in minimizing irreproducibility. In light of the recent GBSI Workshop on Antibody Reproducibility and Validation, this will be a crucial webinar for any scientist. Couvillon will share insight into antibody standards, validation guidelines, and selecting and using research antibodies. CST's antibody validation process will also be highlighted.
The free educational webinar is hosted by LabRoots. For full details about the event, continuing education credits offered through the PACE system and registration, click here.
Bio:
During his tenure at CST, Anthony Couvillon, Ph.D., has developed and validated over 100 antibody products, and has considerable experience in the proteomics space. Prior to joining CST, Couvillon earned his Ph.D. in Molecular Physiology and Biophysics at Vanderbilt University and served as a postdoctoral fellow at the Harvard Medical School. He has spent much of his career using and developing affinity-based methods and assays. Currently, Couvillon is responsible for coordinating CST's antibody reproducibility efforts, working with both internal and external scientists to ensure that CST meets or exceeds the industry standards for antibody validation.
About CST
Cell Signaling Technology (CST) is a private, family-owned company, founded by scientists and dedicated to providing high quality research tools to the biomedical research community. Our employees operate worldwide from our U.S. headquarters in Massachusetts, and our offices in the Netherlands, China, and Japan. www.cellsignal.com.
About LabRoots
LabRoots is the leading scientific social networking website and producer of educational virtual events and webinars. Contributing to the advancement of science through content sharing capabilities, LabRoots is a powerful advocate in amplifying global networks and communities. Founded in 2008, LabRoots emphasizes digital innovation in scientific collaboration and learning, and is a primary source for current scientific news, webinars, virtual conferences, and more. LabRoots has grown into the world's largest series of virtual events within the Life Sciences and Clinical Diagnostics community.
CST Media Contacts:
Rebecca J. Reppucci, MBA
Cell Signaling Technology, Inc.
Director of Marketing Communications
978-867-2382
rebecca.reppucci@cellsignal.com
Shayna Chapel
The Castle Group
+1-617-337-9501
schapel@thecastlegrp.com