Technical Support
Our CST scientists work at the bench daily to produce and validate your antibodies. They have hands-on knowledge of each antibody's performance. These same scientists provide technical support and assistance.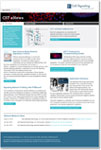 News from the Bench
Discover what's going on at CST, receive our latest application notes, science features, and more.
CiteAb Names Cell Signaling Technology "Researchers' Choice" and "PTM Antibody Company of the Year"
Danvers, MA — February 9, 2017 — Cell Signaling Technology (CST), a leading provider of antibodies, kits, and services, was honored with the 2017 CiteAb Award for "PTM Antibody Company of the Year" and for a third year in a row with the award for "Researchers' Choice." CST was also a close runner-up for the "Antibody Company of the Year" award. The CiteAb Antibody Awards aim to celebrate the very best suppliers, reagents, and individuals in the research antibody sector, recognizing the efforts that are made to progress science.
Andrew Chalmers, Ph.D., founder of CiteAb, said: "Here at CiteAb we're all about making it easier for researchers to find really good antibodies. So many factors are important, from the quality of the product to the customer service and the aftercare that companies provide. This is a really prestigious award as it reflects what researchers really think about the companies they use. Congratulations to Cell Signaling Technology."
"As a company of scientists, we are humbled and honored to have our efforts recognized by the research community. We know customers have a choice when it comes to their antibody supplier and we aim to stand apart through our rigorous development and validation processes and full-service technical support. These awards reinforce that the community at large values these efforts," said Michael J. Comb, Ph.D., Cell Signaling Technology President and CEO.
About CiteAb
CiteAb is the largest citation-ranked antibody search engine and database. It provides an impartial way to find and compare antibodies that work.
Contact:
Katrina Kelly
CiteAb
Marketing manager
Phone: 07403 668718
email: kkatrina@citeab.co.uk
About CST
Cell Signaling Technology (CST) is a private, family-owned company, founded by scientists and dedicated to providing the world's highest quality, innovative, research and diagnostic products to accelerate biological understanding and enable personalized medicine. Our employees operate worldwide from our U.S. headquarters in Massachusetts, and our offices in the Netherlands, China, and Japan.
Cell Signaling Technology®, and CST™ are trademarks of Cell Signaling Technology, Inc.
CST Media Contacts:
Rebecca J. Reppucci, MBA
Cell Signaling Technology, Inc.
Director of Marketing Communications
Phone: +1-978-867-2382
Email: marketingpr@cellsignal.com