Technical Support
Our CST scientists work at the bench daily to produce and validate your antibodies. They have hands-on knowledge of each antibody's performance. These same scientists provide technical support and assistance.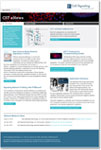 News from the Bench
Discover what's going on at CST, receive our latest application notes, science features, and more.
Cell Signaling Technology Named a Top Charitable Company in Massachusetts by the Boston Business Journal
The company funded 46 grants and awarded nearly $180,000 to local organizations
Danvers, Mass. – September 15, 2016 – Recognized for charitable giving and supporting Massachusetts-based companies with more than $100,000 in 2015, Cell Signaling Technology (CST), a worldwide provider of antibodies, was named a 2016 top corporate charitable contributor in Massachusetts by the Boston Business Journal. Announced at the 11th Annual Corporate Citizenship Summit on September 8 at Artists for Humanity in Boston, the company ranked 79th in Massachusetts charitable companies.
CST has maintained a commitment to investing in community organizations in the North Shore area of Boston. The Small Grants Program provides funding to local educational, social and environmental organizations. CST's philanthropic funding decisions are made by committees focused on education in science, community and green initiatives. Financial support for projects ranges from a few hundred dollars up to $8,000 and are awarded twice a year.
"Our unique Small Grants Program, which dates back to our early years as a company, allows funding decisions to be made by our employee committees," said David Comb, director of Corporate Social Responsibility at CST. "We are dedicated to giving back to and strengthening our communities and are not only thrilled to support 46 grants and corporate sponsorships, but also proud that our employees collectively donated 875 hours to 27 local charitable organizations. We are appreciative of this recognition as it reinforces our ongoing philanthropic work in our local communities."
CST's grants funded a diverse range of local community projects including: Gloucester Middle School's Aquaponics Project, Girls Inc. of Lynn - Beach Sisters Environmental and Marine Ecology Programs and Lynn Central Square's farmer's market through the Food Project.
The 2016 Boston Business Journal awards recognized 85 companies for their contributions to Massachusetts organizations in 2015.
CST's charitable initiatives are part of a broader Corporate Social Responsibility focus that works closely with human resources to include employee wellbeing and volunteer programs, a robust internship and scholarship program, in-house artist exhibits, lab sustainability, alternative transportation program and community gardens.
About CST
Cell Signaling Technology (CST) is a private, family-owned company, founded by scientists and dedicated to providing high quality research tools to the biomedical research community. Its employees operate worldwide from our U.S. headquarters in Massachusetts, and our offices in the Netherlands, China, and Japan.
CST Media Contacts
Rebecca J. Reppucci, MBA
Cell Signaling Technology, Inc.
Director of Marketing Communications
+1-978-867-2382
marketingpr@cellsignal.com
Shayna Chapel
The Castle Group
+1-617-337-950
schapel@thecastlegrp.com