Technical Support
Our CST scientists work at the bench daily to produce and validate your antibodies. They have hands-on knowledge of each antibody's performance. These same scientists provide technical support and assistance.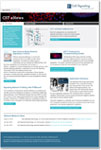 News from the Bench
Discover what's going on at CST, receive our latest application notes, science features, and more.
Cell Signaling Technology, Inc. Announces Novel Discovery Platform for Isolation of High-affinity Antigen-specific Monoclonal Antibodies Directly from Human Serum
DANVERS, MA – December 5, 2012 – Cell Signaling Technology, Inc. (CST) of Danvers, MA is pleased to announce that NG-XMT™, CST's patent-pending proteomics discovery platform can derive antigen-specific monoclonal antibodies from human serum. In the November edition of Nature Biotechnology (30, 1039–1043) the application of CST's NG-XMT™ technology to the identification and cloning of high-affinity, antigenspecific human monoclonal antibodies directly from plasma of human donors is described. The CST-authored paper describes proof of principle studies in which sera from a human donor vaccinated against hepatitis B virus (HBV) and a donor naturally exposed to human cytomegalovirus (HCMV) were used to generate diverse, highaffinity anti-HBV antibodies and high-affinity HCMV-neutralizing antibodies.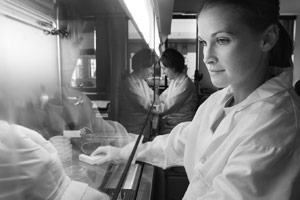 "CST has now demonstrated that our proprietary and patent-pending technology can be successfully applied to isolate endogenous human monoclonal antibodies with potential therapeutic value. The technology is also useful for vaccine development and for understanding basic questions in immunology," said Roberto D. Polakiewicz, Ph.D., CST Chief Scientific Officer. "Moreover, our NG-XMT™ proteomics-based technology is faster and more efficient than other traditional methods."
CST has long been an industry leader in the development and manufacture of high performance antibodies for basic and clinical research. CST antibodies are known for their exceptional quality and rigorous validation for research applications. The development of NG-XMT™ and the resulting ability to isolate monoclonal antibodies directly from human plasma is a manifestation of the company's ongoing commitment to developing novel technologies with diagnostic and therapeutic applications.
"The NG-XMT™ technology will benefit our pharma, biotech, and academic partners around the world," said Fenel M. Eloi, CST Chief Operating Officer. "CST is exploring all avenues to bring this technology to market and to positively impact patients' lives."
About Cell Signaling Technology, Inc.
Cell Signaling Technology, Inc. is dedicated to delivering the world's highest quality research, diagnostic, and therapeutic products to accelerate biological understanding and enable personalized medicine. Through its proprietary monoclonal antibody technologies and PTMScan® proteomics technology, CST continues to be at the forefront of applied systems biology research, promoting greater understanding of biochemical aberrations that underlie critical diseases, including cancer. CST has made significant discoveries in cancer research through its internal research group, and from this has built an intellectual property portfolio around biomarkers relevant to non-small cell lung cancer.
For more information please contact:
Rebecca J. Reppucci
Cell Signaling Technology, Inc.
Director of Marketing Communications
phone: +1-978-867-2382
email: marketingpr@cellsignal.com