Technical Support
Our CST scientists work at the bench daily to produce and validate your antibodies. They have hands-on knowledge of each antibody's performance. These same scientists provide technical support and assistance.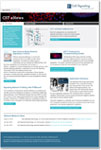 News from the Bench
Discover what's going on at CST, receive our latest application notes, science features, and more.
Cell Signaling Technology, Inc. Announces License in Personalized Cancer Diagnostics
Danvers, MA – March 15, 2011 – Cell Signaling Technology, Inc. (CST) of Danvers, MA, announced today that it has granted Ventana Medical Systems, Inc., a worldwide non-exclusive license to CST patent rights and proprietary antibody reagents relating to the detection of epidermal growth factor receptor (EGFR) mutations for the field of tissue-based in vitro diagnostic testing. Mutant forms of EGFR are important determinants in the clinical management of lung cancer.
CST, a leader in the development and manufacture of high performance antibody products for the medical research market, has developed and clinically validated mutation-specific EGFR antibodies through its internal Cancer Biomarker Program. "CST is very excited to enter into this agreement with Ventana for the development of next-generation diagnostic products that intend to fulfill the promise of personalized cancer medicine," said Michael J. Comb, Ph.D., CST President and CEO. "We are pleased to see that our focused cancer research efforts and proprietary antibody technology will be applied to significant unmet needs in the diagnosis and treatment of cancer patients."
About Cell Signaling Technology, Inc.
Cell Signaling Technology, Inc. is dedicated to delivering the world's highest quality activation state antibody products to accelerate progress in biological research and personalized medicine. Through its proprietary monoclonal antibody technology (XMT®) and proteomics technology (PTMScan®), CST continues to be at the forefront of applied systems biology research, promoting greater understanding of biochemical aberrations that underlie important diseases, including cancer. For more information on CST visit www.cellsignal.com.
About Ventana Medical Systems, Inc.
Ventana Medical Systems, Inc. (VMSI) develops, manufactures, and markets instrument/reagent systems that automate tissue preparation and slide staining in clinical histology and drug discovery laboratories worldwide. The Company's clinical systems are important tools used in the diagnosis and treatment of cancer and infectious diseases. VMSI's drug discovery systems are used to accelerate the discovery of new drug targets and evaluate the safety of new drug compounds. In addition, the Company offers premier workflow solutions designed to improve laboratory efficiency, providing safeguards to enhance the quality of healthcare. Ventana Medical Systems, Inc. is a wholly-owned member of the Roche Group. For more information on Ventana Medical Systems, Inc. visit www.ventana.com.
For more information please contact:
Fenel M. Eloi, M.B.A.
Cell Signaling Technology, Inc.
Chief Operating Officer
phone: +1-978-867-2313
email: feloi@cellsignal.com