Technical Support
Our CST scientists work at the bench daily to produce and validate your antibodies. They have hands-on knowledge of each antibody's performance. These same scientists provide technical support and assistance.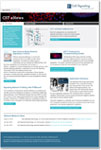 News from the Bench
Discover what's going on at CST, receive our latest application notes, science features, and more.
Cell Signaling Technology, Inc. Acquires BIOKÉ, B.V. and Expands Operations to Europe
DANVERS, MA – July 9, 2009 – Cell Signaling Technology, Inc. (CST), a leading manufacturer and distributor of antibodies and related reagent products for biomedical research, announced today that it has acquired all the shares of BIOKÉ, B.V., the company's current distributor of its research products in the Benelux region. BIOKÉ B.V., established in the Netherlands, has been renamed Cell Signaling Technology Europe, B.V. and will become CST's base of operations in Europe. CST Europe is a wholly owned subsidiary of CST, Inc. and will begin fulfilling orders for Europe effective January 1st, 2010.
"CST already distributes its products globally and does so currently in Europe through exclusive distributors. This acquisition will permit CST to better support its European customers and distributors and help increase the company's brand recognition in that region of the world" said Fenel M. Eloi, the company's Chief Operating Officer. "A company needs to have good control of its distribution channels in key markets. To that end, CST established its Japanese operation in 2008 followed by China earlier this year and for now concludes with this acquisition in Europe" continued Mr. Eloi.
"These recent strategic moves will allow for better market presence and more efficient communication between CST and its international customers. These new sales and logistics operations will ensure the continued delivery of the highest quality products and better leveraging of the company's unparalleled technical support" said Michael J. Comb, the Company's Founder, President and CEO.
The global strategy exemplifies the continued growth that CST has experienced since its inception. The company has been named two years in a row among "The Top 100 Companies in the Boston Area".
About Cell Signaling Technology
Established in 1999, Cell Signaling Technology, Inc (CST) is a privately owned Life Science company with about 300 employees worldwide. CST has the market leadership position in the development and commercialization of phospho-specific and total protein antibodies and develops and manufactures other related reagent products to distribute alongside its flagship products. The Company is a recognized name in signal transduction and pathway analysis. Aberrant signaling within these pathways has been implicated in various diseases including cancer, diabetes and neurodegenerative diseases.
Rebecca J. Reppucci, MBA
Cell Signaling Technology, Inc.
Director of Marketing Communications
Phone: +1-978-867-2382
email: marketingpr@cellsignal.com