Technical Support
Our CST scientists work at the bench daily to produce and validate your antibodies. They have hands-on knowledge of each antibody's performance. These same scientists provide technical support and assistance.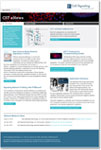 News from the Bench
Discover what's going on at CST, receive our latest application notes, science features, and more.
Cell Signaling Technology, Inc. Announces Renewal of PhosphoScan® Proteomics Research Project for Lead Compound Biomarker Discovery
Danvers, MA – Nov 6, 2008 – Cell Signaling Technology, Inc. (CST) announced today the renewal of a research agreement with Ortho-Biotech Oncology Research & Development (ORD), a Division of Janssen Pharmaceutica, N.V., under which CST will employ its patented PhosphoScan® and PTMScan® technologies in research aimed at biomarker discovery and validation for multiple enzyme target classes and lead small-molecule inhibitors.
PhosphoScan and PTMScan proteomics are patented strategies for extensive profiling and discovery of phosphorylation and other post-translational modifications (PTM) in cells and tissues. CST's PTMScan platform provides unbiased and quantitative analysis of phosphorylation, acetylation and ubiquitination, and most significantly, changes in these post-translational modification (PTM) profiles upon chemical or genetic modulation of therapeutic target activity. Moreover, the PTMSignatures™ reflecting compound-dependent profile changes are analyzed and understood within the context of CST's PhosphoSitePlus® database, which includes many hundreds of cell lines and tissue PhosphoSignatures™, as well as Acetyl and UbiSignatures™. Phospho/PTMScan profiling involves immunoaffinity purification and tandem mass spectrometry; a notable illustration of its effectiveness in kinase target and biomarker discovery in cancer was shown most recently in the journal Cell (Rikova K. et al, Cell 131, 1190-1203 (2007)).
"We were very glad that our initial PhosphoScan pilot project was successful, and we are looking forward to applying PhosphoScan, as well as UbiScan® in further research projects to support the development of cancer therapeutics," said Christopher Bunker, CST's Director of Pharma Services. Dr. Bunker went on to say, "PhosphoScan/PTMScan dovetails perfectly with our proprietary monoclonal antibody technology to enable the discovery and development of critical biomarker assays."
About Cell Signaling Technology
Cell Signaling Technology, Inc. has expertise and the market leadership position in the development and commercialization of Systems Biology antibody reagents and services. CST core expertise is based on an exceptional understanding of signaling biology, proprietary antibody technology and rigorous validation standards for a diverse set of immunoassay platforms. CST's immunoassay products as well as our discovery and development services are recognized for their high performance and value in all stages of pharmaceutical drug discovery and development. PhosphoScan and PTMScan profiling leverage the same Systems Biology expertise and core capabilities in PTM-specific antibody development to deliver immediate relevant information for drug development. CST's PTM proteomics technologies enable the discovery of extensive cellular phosphorylation, acetylation and ubiquitination profiles that may enable more efficient and informed small molecule drug development. CST is commercializing the PhosphoScan/PTMScan technology through research alliances and contract service. Information on CST can be obtained at the Company's website at www.cellsignal.com.