Technical Support
Our CST scientists work at the bench daily to produce and validate your antibodies. They have hands-on knowledge of each antibody's performance. These same scientists provide technical support and assistance.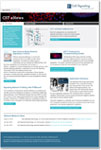 News from the Bench
Discover what's going on at CST, receive our latest application notes, science features, and more.
Cell Signaling Technology, Inc. Donation to Beverly High
DANVERS, MA – June 18, 2008 – Cell Signaling Technology, Inc. Partners with Beverly High School to Promote Science Education; Commits to Funding $90,000 for New High School Science Laboratory.
Cell Signaling Technology® (CST), a growing life science biotechnology company located in both Danvers and Beverly, Massachusetts, is pleased to announce that the company will donate $90,000 for the purchase of equipment for a science laboratory at the new Beverly High School.
Chief Executive Officer Michael Comb, Ph.D., commented "As children we all start out as scientists, opening our eyes to the world around us with awe, trying to understand what we see. Along the way many of us lose that sense of awe, but the right teacher can rekindle these fascinations to produce the next generation of scientists. Although engaged students and educators are required to make learning happen, there is little doubt that quality educational facilities increase the probability of success."
The donation is announced at a time when the city of Beverly is about to break ground on a new $70 million high school facility. Given the size of the financial commitment for the new school, as well as the recently publicized school budget constraints, CST reached out to Beverly Schools Superintendent James Hayes to offer assistance for the science program at the new school.
Said Dr. Comb "We had a unique opportunity where CST could make a difference for current and future generation aspiring scientists in a community where our company is located and many of our employees reside. We hope that this donation and other efforts, past and future, will make a real difference in the science education experience for Beverly students for years to come."
Director of Human Resources Paula Reynolds has been working closely with Superintendent Hayes to design a plan by which the company can assist the Beverly school department in the area of science education. Items CST has committed to in the coming year include seeking opportunities to offer Beverly students internships, having scientists guest lecture at classes, affording students and teachers the opportunity to tour the company's laboratory facilities (a lead point certified Green facility), and the ongoing donation of laboratory materials.
Said Superintendent Hayes "CST's caring toward its community and generosity serves as an example as to how other businesses can make a real difference for the youth of Beverly, and the contribution our students will make to society in the near and distant future."
About Cell Signaling Technology
Established in Beverly MA in 1999, Cell Signaling Technology (CST) is a privately owned company with over 250 employees. The company is dedicated to pro¬viding innovative research tools that are used to help define mechanisms underlying cell function and disease. Since its inception, CST has become the world leader in the production of the highest quality activation-state antibodies utilized to expand knowledge of cell signaling pathways. Aberrant signaling within these pathways has been implicated in various diseases including cancer, diabetes and neurodegenerative diseases.