Technical Support
Our CST scientists work at the bench daily to produce and validate your antibodies. They have hands-on knowledge of each antibody's performance. These same scientists provide technical support and assistance.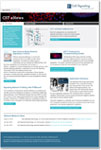 News from the Bench
Discover what's going on at CST, receive our latest application notes, science features, and more.
Cell Signaling Technology, Inc. Expands Operations Overseas
DANVERS, MA – April 8, 2008 – Cell Signaling Technology (CST), a leading provider of antibodies and related products for biomedical research, announced today that it has established a wholly owned subsidiary in Japan which began fulfilling orders as of April 1st, 2008. The office is strategically located in Tokyo, which is in close proximity to a significant proportion of its customer base.
"CST was already distributing its products globally. However, from a strategic standpoint the company wants to establish an operational presence in key global markets", said Fenel M. Eloi, CST's Chief Operating Officer. "Japan is the first of such a strategic move. The move will allow for more efficient communication between CST and the Japanese research community. The seamless transition will ensure the continued delivery of the highest quality products and better leveraging of the company's technical support", continued Mr. Eloi.
The global strategy exemplifies the continued growth that CST has experienced since its inception – the company was recently featured on ABC's Good Morning America news segment as a representative of one of the few American companies with steady growth in our current economy.
About Cell Signaling Technology, Inc.
Established in 1999, Cell Signaling Technology (CST) is a privately owned company with about 250 employees. CST has expertise and the market leadership position in the development and commercialization of phospho-specific and total protein antibodies as well as assays for kinase and pathway analysis. Aberrant signaling within these pathways has been implicated in various diseases including cancer, diabetes and neurodegenerative diseases.
Contact:
Fenel M. Eloi, M.B.A.
Cell Signaling Technology, Inc.
Chief Operating Officer
phone:  +1-978-867-2313
email: feloi@cellsignal.com