Technical Support
Our CST scientists work at the bench daily to produce and validate your antibodies. They have hands-on knowledge of each antibody's performance. These same scientists provide technical support and assistance.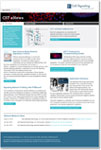 News from the Bench
Discover what's going on at CST, receive our latest application notes, science features, and more.
Cell Signaling Technology, Inc. Announces Continued PhosphoScan® Proteomics Research Project with Bristol-Myers Squibb for Kinase Inhibitor Profiling
Danvers, MA, February 5, 2008 – Cell Signaling Technology, Inc. (CST) announced today the continuation of a research agreement with Bristol-Myers Squibb Company (NYSE:BMY) under which CST will employ its patented PhosphoScan® technology in the cell and tumor phospho-profiling of a Bristol-Myers Squibb small-molecule kinase inhibitor.
The PhosphoScan® profiling research project builds on a successful evaluation project between the two companies, which was completed in March 2007, and will involve in vivo phosphorylation profiling of kinase inhibitor response profiles in xenograft tumor models.
PhosphoScan® proteomics is a patented strategy for broad profiling of phosphorylation in cells and tissues. The PhosphoSignatures™ generated with the Bristol-Myers Squibb compound will be analyzed and understood within the context of CST's PhosphoSignature™ database covering hundreds of cancer cell lines and human tumors. PhosphoScan® profiling involves immunoaffinity purification and tandem mass spectroscopy and its effectiveness in kinase target and biomarker discover in cancer was illustrated most recently in the journal Cell (Rikova K. et al, Cell 131, 1190-1203 (2007)).
"Our PhosphoScan® profiling research with Bristol-Myers Squibb has been very successful and we are glad to have the opportunity to extend that research in analysis of Bristol-Myers Squibb's kinase inhibitors in tumor models," said Christopher Bunker, CST's Director of Pharma Services. Dr. Bunker went on to say, "The application of PhosphoScan® to both cell and tumor models is an effective strategy by which to validate PhosphoSignature™ discoveries enabling the opportunity to develop biomarker assays specific for Bristol-Myers Squibb targeted small molecule therapeutics."
About Cell Signaling Technology, Inc.
Cell Signaling Technology, Inc. has expertise and the market leadership position in the development and commercialization of phospho-specific antibodies and assays for kinase and pathway analysis. CST's phospho-specific antibodies are validated in multiple assay platforms and are critical reagents in all stages of pharmaceutical drug discovery and development. PhosphoScan® profiling leverages CST's core capability in kinase research biology and antibody development, and it is a strategy by which to discover cellular phosphorylation profiles that may enable more efficient and informative kinase drug development. CST is commercializing the PhosphoScan® technology through research alliances and contract service. Information on CST can be obtained at the company's website at www.cellsignal.com