Technical Support
Our CST scientists work at the bench daily to produce and validate your antibodies. They have hands-on knowledge of each antibody's performance. These same scientists provide technical support and assistance.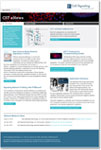 News from the Bench
Discover what's going on at CST, receive our latest application notes, science features, and more.
Cell Signaling Technology Goes Green
November 8, 2007, (Danvers, MA) – Cell Signaling Technology, Inc. (CST) announced today that it has been awarded LEED® Certification by the U.S. Green Building Council (USGBC). LEED is the USGBC's leading edge system for designing and constructing the world's greenest, energy efficient, high performing buildings.
"One of CST's founding principals is to promote sustainable and sound ecological practices that respect our natural world," said Michael Comb, founder and CEO of CST. "Formerly a hotel, our new headquarters has been transformed into a state of the art production facility and has recently achieved LEED (Leadership in Energy and Environmental Design) certification. This is a voluntary, consensus-based national standard for developing high-performance, sustainable buildings that have long-term environmental benefits to both CST and the surrounding communities."
The LEED (Leadership in Energy and Environmental Design) Green Building Rating System is a voluntary third party rating system where credits are earned for satisfying specified green building criteria. Projects are evaluated within six environmental categories: Sustainable Sites, Water Efficiency, Energy and Atmosphere, Materials and Resources, and Indoor Environmental Quality. Certified, Silver, Gold, and Platinum levels of green building certification are awarded based on the total credits earned. The LEED standard has been adopted nationwide by federal agencies, state and local governments, and interested private companies as the industry standard of measurement for green building.
"CST is to be commended for achieving LEED certification. This facility is one that both the community and its customers can be proud of," said Rick Fedrizzi, President, CEO, Founding Chair, U.S. Green Building Council. "CST will be a showcase for high-performance, energy-efficient, a healthy work environment, and an inspiration for others."
About the U.S. Green Building Council
The U.S. Green Building Council is the nation's leading coalition of corporations, builders, universities, federal and local agencies, and nonprofit organizations working together to promote buildings that are environmentally responsible, profitable and healthy places to live and work. Greenbuild as well as the LEED® Green Building Rating System are projects of the USGBC. For more information on the USGBC, visit www.usgbc.org.
About Cell Signaling Technology, Inc.
Established in Beverly MA in 1999, Cell Signaling Technology (CST) is a privately owned company with over 200 employees. The company is dedicated to providing innovative research tools that are used to help define mechanisms underlying cell function and disease. Since its inception, CST has become the world leader in the production of the highest quality activation-state antibodies utilized to expand knowledge of cell signaling pathways. Aberrant signaling within these pathways has been implicated in various diseases including cancer, diabetes and neurodegenerative diseases. Information on CST can be obtained at the Company's website at www.cellsignal.com.