Technical Support
Our CST scientists work at the bench daily to produce and validate your antibodies. They have hands-on knowledge of each antibody's performance. These same scientists provide technical support and assistance.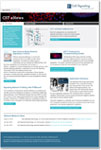 News from the Bench
Discover what's going on at CST, receive our latest application notes, science features, and more.
Cell Signaling Technology announces the issuance of a patent on novel "motif antibody" technology
Beverly, MA—October 22, 2002 Business Wire — Cell Signaling Technology (CST) announced today the issuance of its U.S. Patent No. 6,441,140, directed to the production of a novel class of motif-specific, context-independent antibodies, highly useful for the identification of subclasses of protein kinase substrates. This technology may broadly accelerate progress in the study of signal transduction pathways.
'The issuance of this patent confirms CST's leadership in the development of new technology for the elucidation and detection of signal transduction proteins relevant to human disease,' said Chief Executive Officer Michael J. Comb, Ph.D. "The method is a vast improvement over the use of modified amino acids as immunogens and produces antibodies that are focused on fixed residues yet broadly tolerant at variable positions."
CST uses peptide libraries as immunogens to produce antibodies reactive against short linear phosphorylated motifs present in many different proteins. This novel method is broadly applicable to any protein kinase for which a substrate consensus motif has been identified and can also be used to produce antibodies highly reactive against acetylation, methylation and proteolytic cleavage containing motifs.