Technical Support
Our CST scientists work at the bench daily to produce and validate your antibodies. They have hands-on knowledge of each antibody's performance. These same scientists provide technical support and assistance.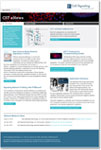 News from the Bench
Discover what's going on at CST, receive our latest application notes, science features, and more.
Cell Signaling Technology, Inc. Announces License in Personalized Cancer Diagnostics
Danvers, MA – July 29, 2013 – Cell Signaling Technology, Inc. (CST) of Danvers, MA, announced today that it has granted Cepheid, Inc., a worldwide non-exclusive license to CST patent rights relating to the detection of ALK gene rearrangements for the field of PCR (polymerase chain reaction) diagnostic testing. Cepheid will develop a test, which is intended to identify non-small cell lung cancer (NSCLC) patients with anaplastic lymphoma kinase (ALK) gene rearrangements.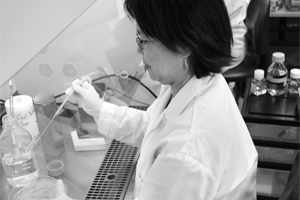 Lung cancer is the world's leading cause of cancer death with more than 1.6 million new cases diagnosed each year. About 85 percent of lung cancer patients have the non-small cell type and are usually diagnosed with advanced disease and a very low survival rate. Preliminary epidemiology suggests that approximately 3–5 percent of NSCLC patients have tumors positive for the ALK fusion gene.
CST and one of its partners own dominant rights to the intellectual property directed to the detection of EML4-ALK translocations. The patent rights include method claims that cover IHC (immunohistochemistry), PCR, and gene sequencing platforms as well as patents (US Patent Nos. 8,288,102, and 8,377,642) relating to molecular-based methods for the detection of EML4-ALK. With the recent addition of US patent 8,481,279, which covers methods for inhibiting the progression of lung cancers that express the EML4-ALK fusion gene, CST now has a dominant IP position for EML4-ALK in NSCLC that spans from research through diagnosis and therapy.
"CST is very excited to enter into this agreement with Cepheid for the development of molecular based testing products to add to the diagnostic platform options for EML4-ALK detection," said Michael J. Comb, Ph.D., CST President and CEO. "We believe it further validates our growing intellectual property portfolio and the research in identifying the expression of EML4-ALK, important to the diagnosis and treatment of cancer patients."
About Cell Signaling Technology, Inc.
Founded by research scientists in 1999, Cell Signaling Technology (CST) is a private, family-owned company with over 400 employees worldwide. Active in the field of applied systems biology research, particularly as it relates to cancer, CST understands the importance of using antibodies with high levels of specificity and lot-to-lot consistency. It's why we produce all of our antibodies in house, and perform painstaking validations for multiple applications. And the same CST scientists who produce our antibodies also provide technical support for customers, helping them design experiments, troubleshoot, and achieve reliable results. We do this because that's what we'd want if we were in the lab. Because, actually, we are.
For any media inquiries please contact:
Rebecca J. Reppucci
Cell Signaling Technology, Inc.
Director of Marketing Communications
phone: +1-978-867-2382
email: marketingpr@cellsignal.com
For any business inquiries please contact:
Matthew Schiller
Cell Signaling Technology, Inc.
Head of Licensing
Phone: +1-978-826-6074
Email: matthew.schiller@cellsignal.com